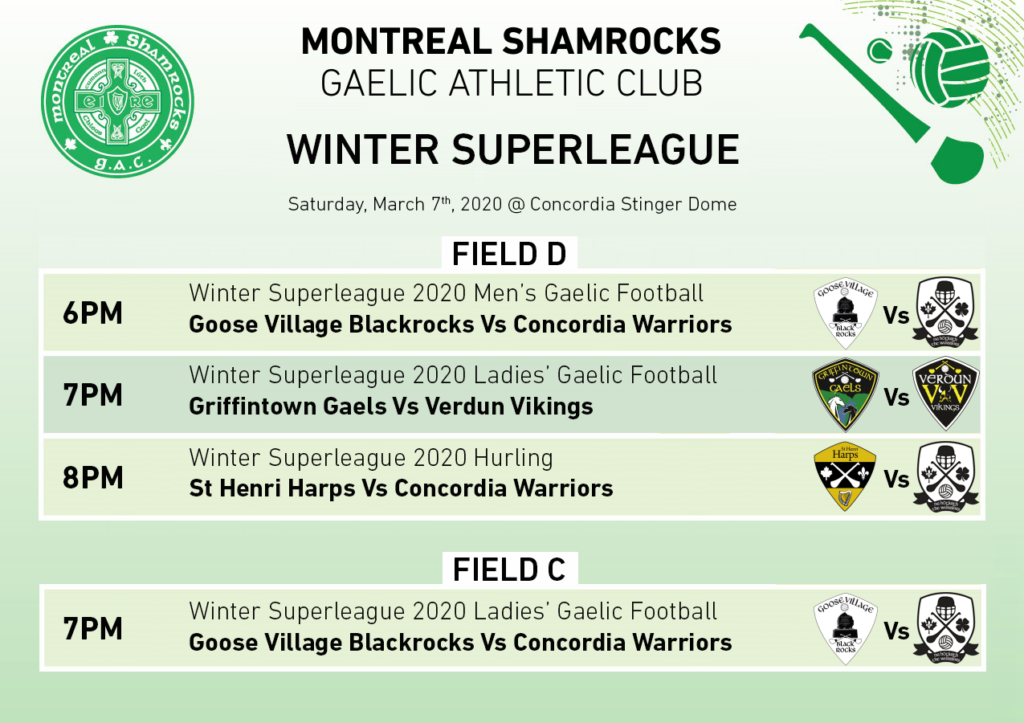 Coming up this Saturday, the 7th of March at the Stinger Dome –
6pm – Goose Village Blackrocks (Men's) vs Concordia Warriors (Men's)
7pm – Field D – Griffintown Gaels (Ladies) vs Verdun Vikings (Ladies)
7pm – Field C – Goose Village Blackrocks (Ladies) vs Concordia Warriors (Ladies)
8pm – St Henri Harps vs Concordia Warriors
Week nine of the 2020 Winter Superleague starts at 6pm this Saturday, the 7th of March, in the Concordia Stinger Dome, and it's the last chance saloon for a number of our teams, as the race tightens and the margin for error gets even smaller.
First we have the Goose Village Blackrocks lining up against the Concordia Warriors in the men's football. With both teams still in the hunt for the second finals spot, the winner here will have the easiest path to the final, but by no means will the outcome be certain. Expect no quarter asked for, or given in this game.
Next we have a ladies football double header Griffintown Gaels Vs Verdun Vikings on Field D and Goose Village Blackrocks Vs Concordia Warriors on Field C. The permutations at play here are too numerous to mention – the only things that are certain are: if the Blackrocks win, they are into the final, and if the Gaels lose, they'll be out of contention. Anything could happen, including a continuation of this four way split for the finals. Both these games should be spectacular, and with so much on the line, why wouldn't they be?
Finally, it's N.D.G. St Henri Harps taking on the Concordia Warriors in the hurling. With PSC out of the running and Na Fianna already in the finals, this is the match that will make or break the Warriors debut hurling season. A win here, and then they're one step closer to a place in the finals, a draw will make things harder, but not impossible, and a loss will put an end to things. It's not complicated, but that doesn't mean it's easy, taking points off the Harps has been a tall order all season – but the Warriors didn't get this far by being reserved. Expect this clash to be one of the highlights of the winter hurling season!