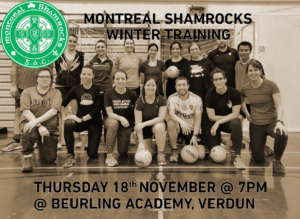 Our winter training season is kicking off, starting this Thursday the 18th of November from 7pm at the Beurling Academy in Verdun.
Gaelic Football training will be from 7pm to 8pm
Hurling training will be from 8pm to 9pm.
Places are limited so we'd ask that people sign up at this link and indicate which training session(s) they'd like to attend.
Also, vaccine passports are a mandatory requirement to use this facility, so please be sure to bring yours along.