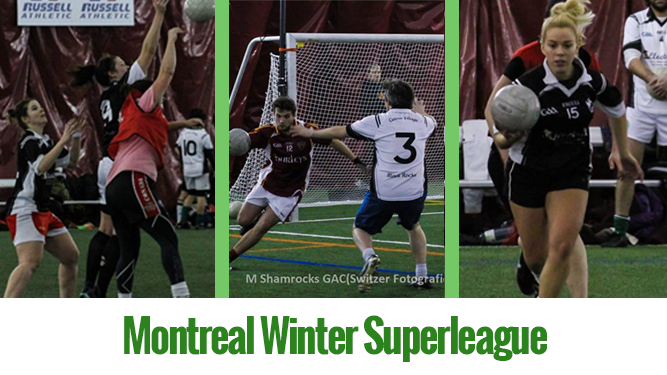 The Winter Superleague is the Montreal Gaelic Athletic Club's main competition in the deep, cold, Canadian winter months.
Played at the Loyola Stinger dome during the weekend, it pits 3 teams against each other for both ladies and gents.
Those teams are the Verdun Vikings, the Griffintown Gaels, and the Goose Village Blackrocks.
Match Day Structure & Rules
30 mins: Training and skills session
50 mins: Match
Each week, 2 out of the 3 teams will play.
Every team plays twice every 3 weeks
The team not playing on any particular week will need to provide the officials for that match
Scores can only be taken within opponents half
2 points for a fisted point over the bar
Ladies scores have +1 Point. i.e. Goal = 4 points, fisted over bar = 3 points, Kick over bar = 2 points
When defender puts ball across own back line, play is resumed by attacking team with an indirect kick or fist pass from the corner where the sideline meets the halfway line on the respective side on which the ball went out.
Goalies can kick or punch the ball out.
All games are 8 aside