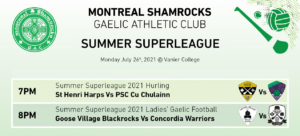 The Montreal Shamrocks Summer Superleague continues on Monday the 26th of July, at Vanier College and starting at 7pm.
We start with Hurling as PSC Cu Chulainn look to make it two wins from two as they take on the St Henri Harps, in the Harps first game of the season.
Next up, the ladies' Gaelic football series continues as the Concordia Warriors look for revenge against the Goose Village Blackrocks, in what promises to be a tense and exciting affair.