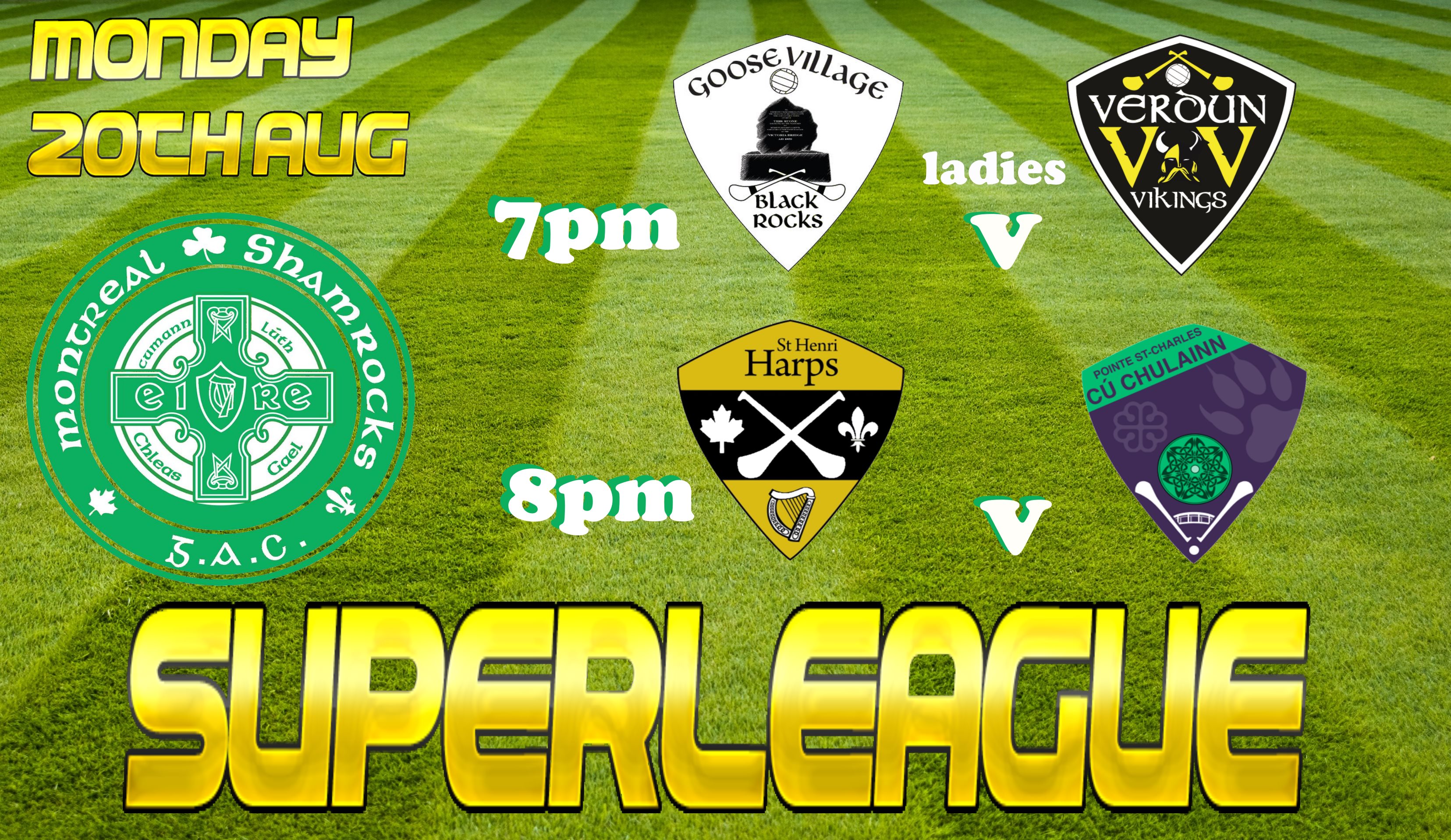 With only three games left to play this season in Hurling and Ladies' Football the pressure is on for all the teams involved this week.
First, we have the Goose Village Blackrocks lining up against the Verdun Vikings. The Vikings are currently bottom of the table, but still have three games left to play, which gives them an advantage over second place Griffintown Gaels, who have just one game left. And they'll need every edge they can get – they'll be playing in every fixture from now until the end of the season, and they have a mammoth task ahead of them. They need at least two wins, and they absolutely have to beat the Griffintown Gaels the next time these sides meet. It's not impossible, but the enormity of the task at hand will surely be weighing heavily on the Vikings.
But the first order of business will be taking points from a Blackrocks side that's been in top form of late, and who have bested the Vikings twice already this season.
The Blackrocks gave the Vikings a lifeline when they soundly beat the Griffintown Gaels last week, but they'll be just as happy to snuff that little flame of hope out. With their place in the final already secured as well as being untouchable at the top of the table, other teams might feel the temptation to take their foot off the gas and coast into the finals. But the Blackrocks aren't a side that are content to rest on their laurels, and will want to make it three for three against the vikings with another win here.
Is the Vikings comeback on? Or will the Blackrocks continue their current form? Find out in what will be the game that either makes or breaks the Vikings season.
And on the subject of comebacks, in Hurling the St Henri Harps will tog out against PSC Cu Chulainn in our second game of the evening.
A closely fought victory over Na Fianna Rouges last week opened the door just a fraction for the Harps, and now they'll be looking to shove it wide open by taking a scalp from PSC. The Harps have two games left, both of them against PSC, and they need at least one win to leap over Na Fianna and get into second. Two wins would nearly guarantee them a second place spot, but first things first.
St Henri have had a poor record against PSC this season and PSC have consistently been in fine form, which will make the task ahead all the more difficult, but not impossible. And despite a number of high profile players having left the Harps this summer, they've remained fiercely competitive, as the Rouges can ruefully attest. Anyone in the PSC camp expecting a walkover would be well advised to reconsider.
But even the most die hard Harps supporter would admit that PSC is the team to beat, and having to do it twice would nearly be asking too much. There's a reason that despite having the fewest games played, they're still top of the table. Any team facing off against them will have to dig deep if they're to take points from them.
But things are still close in hurling, and there's just enough room left for any number of scenarios to play out, which will make this a pivotal game.
Is the St Henri comeback real, or will PSC prove to be too much? Will Na Fianna be able to bring themselves to cheer for PSC, or will they be too busy checking the rules to see if there is some way both sides can lose?
All eyes will be on this game, which should see some fantastic hurling and give us all plenty to talk about.
Both these fixtures are on Monday the 20th of August at Vanier College
7:00pm – Goose Village Blackrocks (Ladies) vs Verdun Vikings (Ladies)
8:00pm – St Henri Harps vs PSC Cu Chulainn