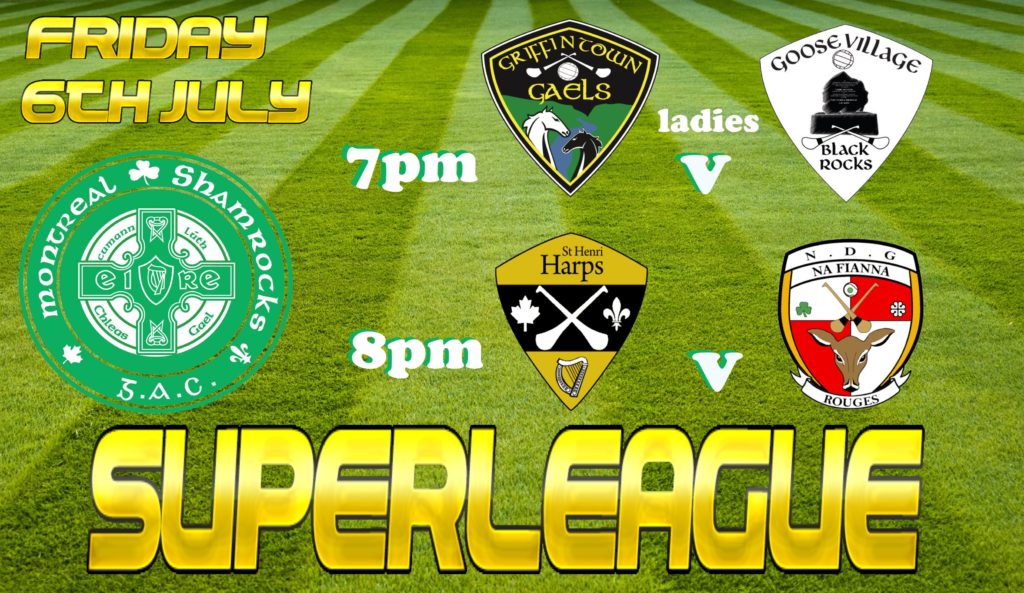 The temperatures are high, and so are the stakes in the second set of fixtures for week six of the Summer Superleague.
We're approaching the midway point of the summer season, and the league tables are starting to take shape, but nothing is set in stone yet – which will be a comfort to both sides in our first Friday fixture, which sees the Goose Village Blackrocks facing off against the Griffintown Gaels in ladies' football.
These teams are tied on points, with scoring difference keeping the Blackrocks in first place. The Gaels will be eager to claim the top spot for themselves, as well as avenging a ten point defeat at the hands of the Blackrocks earlier in the season. With a nine points scoring difference and a game in hand, the Blackrocks have the advantage going into this game, and would expect to win it, but they would need to be wary of complacency as the Gaels will be as unrelenting as the Montreal summer heat. This clash promises to be intense with some of the best Ladies' players going head to head in an important game.
While the evening may have cooled slightly by the time our second game kicks off, this Hurling fixture will be hot from the get go.
Both the St Henri Harps and N.D.G Na Fianna Rouges will be keenly aware that the winner here will put themselves in the driving seat when it comes to dethroning current table toppers, PSC. Na Fianna won by three points against St Henri in the first hurling game of this season, and will be looking for a repeat of that performance to steady the ship, which has been rocked by back to back losses against PSC Cu Chulainn. St Henri also failed to stop PSC in their last fixture, but it was a close game and with a bit of luck could have easily gone St Henri's way, so they'll look to draw on that performance and exact revenge on Na Fianna.
It's a bit early to be calling this the battle for second place, but neither team will be willing to give an inch as they have one eye on the top of the table, and go into this fixture knowing that a loss here would leave them with a mountain to climb. But as the winter league showed, nothing is ever certain in Hurling.
Both these fixtures are on Friday the 6th of July at the College de Notre Dame
7pm – Goose Village Blackrocks (Ladies) vs Griffintown Gaels (Ladies)
8pm – Na Fianna Rouges vs St Henri Harps