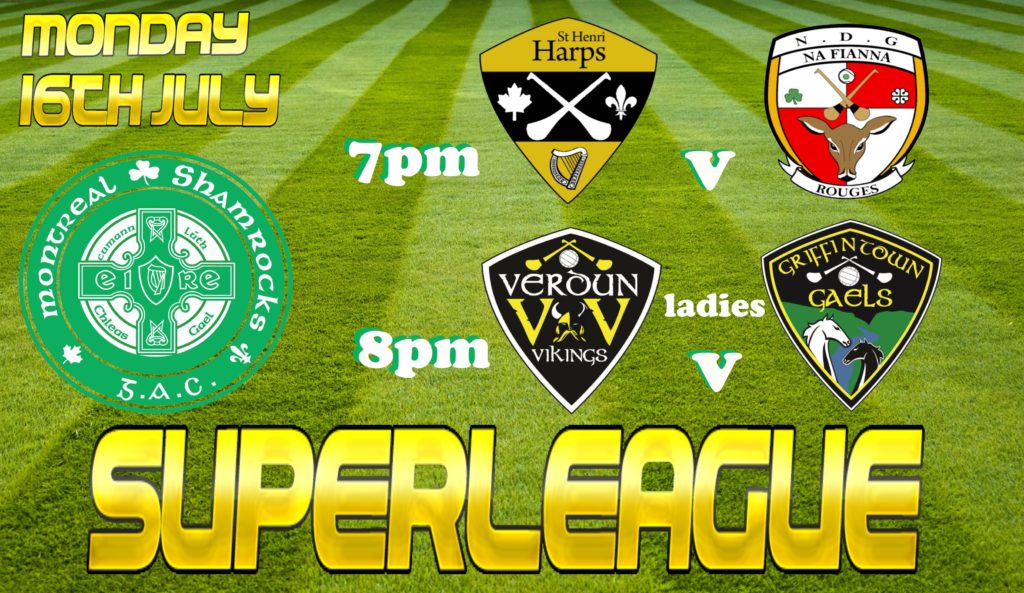 Week eight of the superleague sees Hurling and ladies football action, and as we move into the back half of the season and the tables take shape, each and every fixture becomes more and more important.
And one team who will be keenly aware of just how important these games are is Na Fianna Rouges who will face off against the St Henri Harps in our opening fixture. The last meeting between these two was very one sided, with the Harps running rampant over the Rouges. Currently bottom of the table, by virtue of score difference, the Rouges will know that nothing less than victory will do here. Anything less will leave them with a mountain to climb, as they would be two points adrift of the Harps, and four behind the leaders, with only three games left to play.
The Harps will be keen to use their blowout over the Rouges as a springboard to mount a challenge on first place PSC, another win here would move them to within striking distance of the table toppers, and with a game in hand over the Rouges would make them confident of being finalists regardless how their challenge for the top spot goes.
The last time these sides met, we promised a tense game that failed to materialise, but with so much at stake and both teams looking likely to have their full squads available, this should be one of the games that will define the rest of this summer's hurling superleague.
The second game will have some big shoes to fill, but these are exactly the teams you'd want to fill them. In ladies football the Verdun Vikings will be eager to have a go at the high flying Griffintown Gaels. The Vikings are without a win this season, but that won't be much comfort to the Gaels, as both meetings between these sides have been closely fought affairs. On paper the Vikings are the equal of any team in the league, and now with a nearly impossible task ahead of them this is exactly when they'll need a bit of magic to turn things around. It'll be all hands on deck and eyes will be turning to Captain Eimear O'Leary-Barrett to lead the way.
In their last fixture, the Gaels saw off their closest rivals, the Goose Village Blackrocks, to move two points clear at the top. Buoyed by this, they'll be coming into this match eager to do the business and put more space between them and the rest of the pack, but they will be aware that they've played the most games of all three teams, so there's less room for error. A slip up here against a hungry Vikings side would throw the race for the top spot wide open.
With so much at stake here, this game should be a classic, with no quarter asked for, or given.
Both these fixtures are on Monday the 16th of July at the Vanier College
7:00pm – St Henri Harps vs Na Fianna Rouges
8:00pm – Verdun Vikings (Ladies) vs Griffintown Gaels (Ladies)