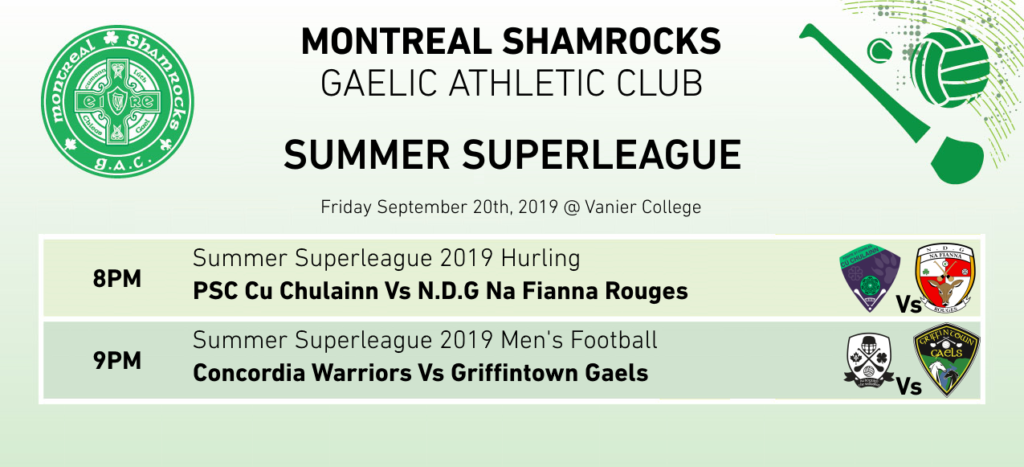 Coming up this Friday, the 20th of September at the Vanier College –
8pm – PSC Cu Chulainn vs N.D.G. Na Fianna Rouges
9pm – Griffintown Gaels (Men's) vs Concordia Warriors (Men's)
The second last set of games before the summer superleague finals give us what may well be the deciding match in the Hurling superleague and the final men's game.
First, we have PSC Cu Chulainn taking on N.D.G. Na Fianna Rouges ìn what could well be the decider for who will take the second place spot in the hurling final. PSC go into this game two points behind, but with a game in hand. Victory here would bring them level with Na Fianna, and then either a win or draw in their final game of the season would guarantee them a spot in the finals. For the Rouges, a win or a draw here will be sufficient to see them into the finals, no matter what happens in the last hurling game. If they lose, the odds are still in their favour, as they currently enjoy a fifty point scoring cushion, so as long as PSC lose their final game, then it's very likely that Na Fianna will still progress to the finals.
All of which means just one thing for tonight, with a place in the finals on the line, both teams are going to go at this, and go at it hard. Expect a fantastic display as both these teams dig deep and try to give it their all.
Rounding out the night is an affair with much lower stakes. With the finalists already decided for the men's final, the Griffintown Gaels will line out for their last regular season game against the Concordia Warriors. This game will provide the Gaels with some valuable game time before the big day, and the Warriors – undoubtedly looking towards the winter league – will take the freedom offered by this game to experiment and try out some new things. This should give us a wonderful display as the gaels hone themselves for the final against a side free to play as they wish. Should make for a fine end to the evening.