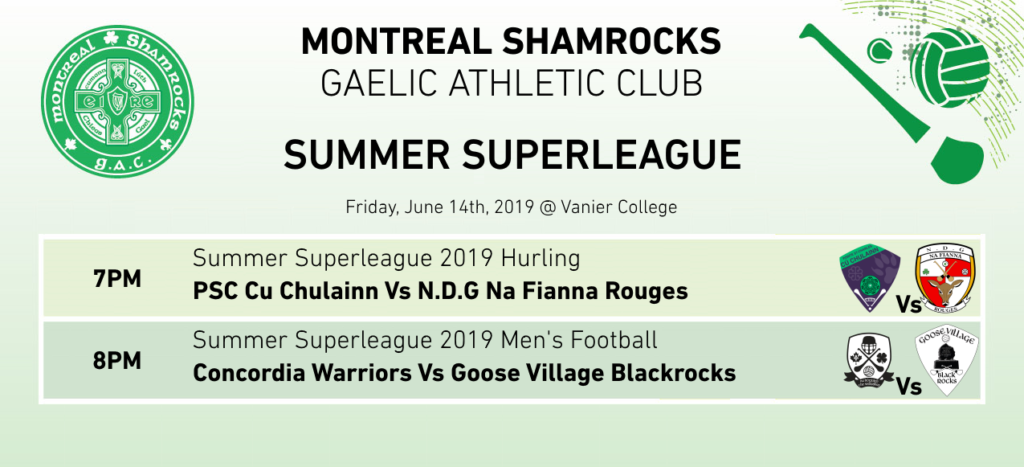 Coming up this Friday, the 14th of June at the Vanier College –
7pm – PSC Cu Chulainn vs N.D.G. Na Fianna Rouges
8pm – Concordia Warriors (Men's) vs Goose Village Blackrocks (Men's)
Welcome back to the Summer 2019 superleague season! This Friday we see the second Hurling fixture of the summer, and then the Men's football league continues on with a mid table clash that will see the winner take the top spot.
First up, N.D.G. Na Fianna Rouges will face off against PSC Cu Chulainn in our second hurling fixture of the season, as the Rouges look to reset their season after last Monday's narrow loss to the St Henri Harps. After such a closely fought game with a revitalised Harps side, the Rouges will certainly feel that they can build on that performance and claim two points here.
PSC will be looking to start their defense of their Summer Championship on the right foot and a strong performance here would do just that. And they might just be looking to settle a score from the winter Superleague finals where they came away the lesser when these two teams met.
This promises to be a fine start to the first Friday fixture of the league, with neither side looking likely to hold back.
And following that, the Concordia Warriors will line out opposite the Goose Village Blackrocks in Men's football. These teams, and current table toppers the Griffintown Gaels, have two points to their name, with score difference just nudging the Warriors into second place ahead of the Blackrocks, and behind the Gaels. Victory here for either side would put them on top of the table, and while there's a long way to go yet in this season, neither side would turn down a chance to try and establish themselves at the front of the pack.
The Warriors are coming into this with the bigger task ahead of them, they play on Friday, and then play the Gaels three days later, knowing this they may very well be more reserved in their play, trying to avoid injuries and making sure they will still be fit for their next fixture.
By contrast the Blackrocks won't be called on again for ten days, giving them more freedom to push the Warriors physically, and hope that they can use their longer break to ask questions of the warriors that they may not be able to answer. Will that be the case, or might it be asking too much of the Blackrocks themselves?
Previous experience shows us that the story of the Men's football league is a long and winding one, but both these teams are looking to set their stalls out early, which should make for a fantastic game off football.