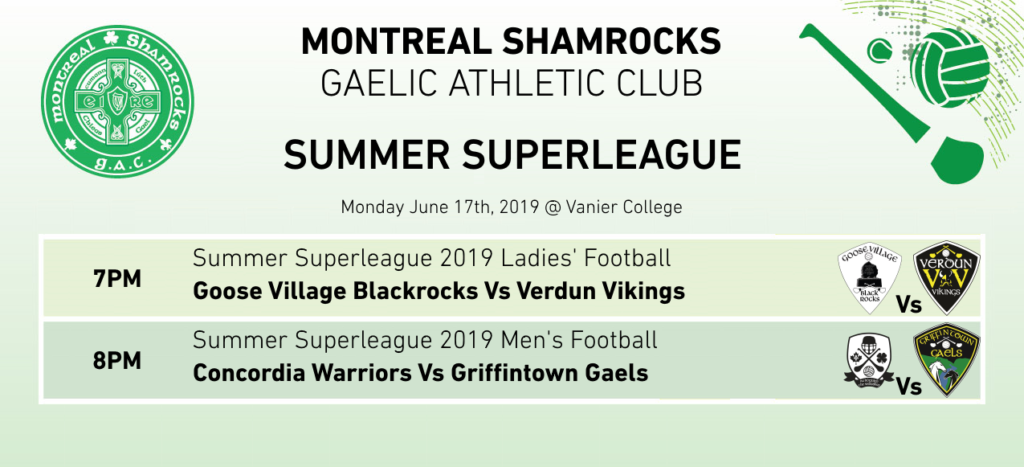 Coming up this Monday, the 17th of June at the Vanier College –
7pm – Goose Village Blackrocks (Ladies) vs Verdun Vikings (Ladies)
8pm – Concordia Warriors (Men's) vs Griffintown Gaels (Men's)
As we push into the third week the tables are slowly beginning to take shape, but there's a long way to go yet – and you would hope that minds will be more focused on the here and now than Septembers finals. And speaking of, we have an all football night this Monday, with the ladies opening up with a rerun of the winter Superleague final, before the Men's teams tussle for a place at the top of their table.
The Goose Village Blackrocks misfired in their opening match, and now will look to reset and start again, but they've a big job to hand. The Verdun Vikings show no sign of slowing from the pace that saw them take the winter Superleague title, and will be keen to maintain their momentum. All that being said both teams are still only on their second game of the season and with newly drafted players meshing with established and returning veteran players, these sides are in a state of flux. This could really go either way, and it'll be down to whichever side starts to gel earliest. Once either of these team get a head of steam it's a very tall order to derail them.
This should be a fantastic game to watch, with free flowing football to delight even the most jaded of spectators.
Following that we turn to the Men's league, and just three days since they last togged out the Concordia Warriors will eagerly face off against the Griffintown Gaels. The Warriors found the Goose Village Blackrocks too hot to handle on Friday, so they will now be eager to dig deep and show everyone that they're still more than able to compete. They're by no means adrift and a win here would bring them into second place, only by virtue of score difference, which they'd be more than happy with.
The Gaels will be coming in rested, and delighted with their commanding victory over the Verdun Vikings the previous week, looking to start a winning streak to take them ahead of the rest of the pack. Being two points and a score difference of just six behind top of the table Blackrocks, they'll surely fancy their chances here. Will the Warriors take out their frustrations on the Gaels, or will the more rested Gaels breeze past a demoralised Warriors?
Join us this Monday in Vanier and find out!