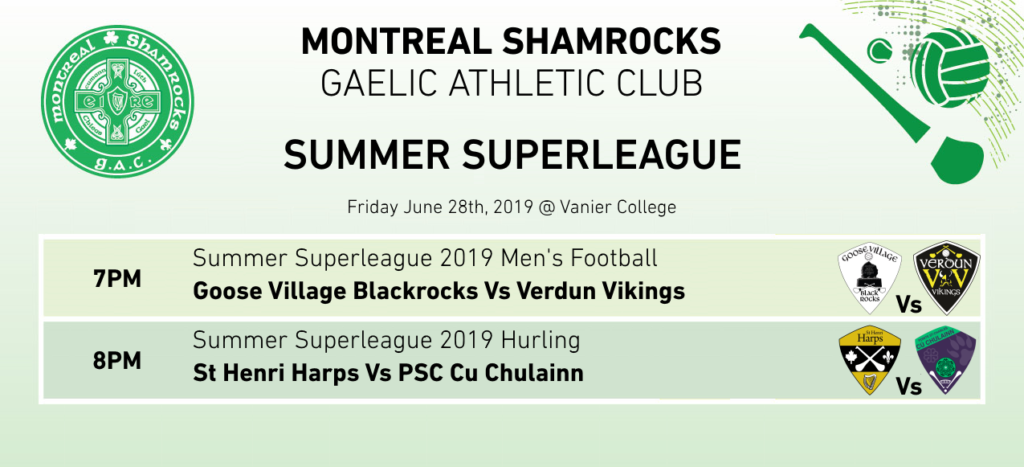 Coming up this Friday, the 28th of June at the Vanier College –
7pm – Verdun Vikings (Men's) vs Goose Village Blackrocks (Men's)
8pm – St Henri Harps vs PSC Cu Chulainn
For our second fixture this week, we have the men's Vikings attempting to restart their football season after some early misfiring, and in small ball action, PSC look to put themselves clear in a top of the table clash.
First up, the Verdun Vikings tog out against the Goose Village Blackrocks in Men's football. The Blackrocks missed a chance to go top of the table this past Monday as an on form Gaels side proved to just be too much to handle, but they can bring themselves to level pegging on points if they can manage a win here. And despite not having the long rest period the Vikings have enjoyed, they will surely fancy their chance against a side that's yet to register a win this season. The Vikings for their part might just be smelling blood in the water, being well rested against a side that's on their second game in five days certainly puts a point or two in their column for this clash. With the fewest games played so far, the Vikings can simply put the season up to this point behind them and concentrate on making up lost ground. Will the Vikings find their summer form, or stall out again? Are the Blackrocks ready to regain control of their ship, or will this week prove to be a one-two punch? Join us at 7pm in Vanier College to find out.
Next, and finally, we have the St Henri Harps taking on PSC Cu Chulainn in the Hurling. Both teams have one win from one game, and it's the first time they've met in the Summer Superleague, so this match is very important to both side. The winner will move two points clear at the top and it will put them in the driving seat for the rest of the league. Both sides conducted themselves admirably against currently third place Na Fianna Rouges in their respective games, but with PSC finding the goals to be more freeflowing that the Harps did that keen attacking frontline might ask questions of the Harps that they will be unable to answer. Or perhaps the Harps will find that PSC's scant few points in their previous game means that controlling the play from midfield is the key to victory here.
Either way, the winner of this game will find themselves in a very strong, but not unassailable, position for the rest of the season, so expect there to be no quarter asked or given from the throw in to the final puc of the ball.
A great way to end another fantastic evening in the superleague!