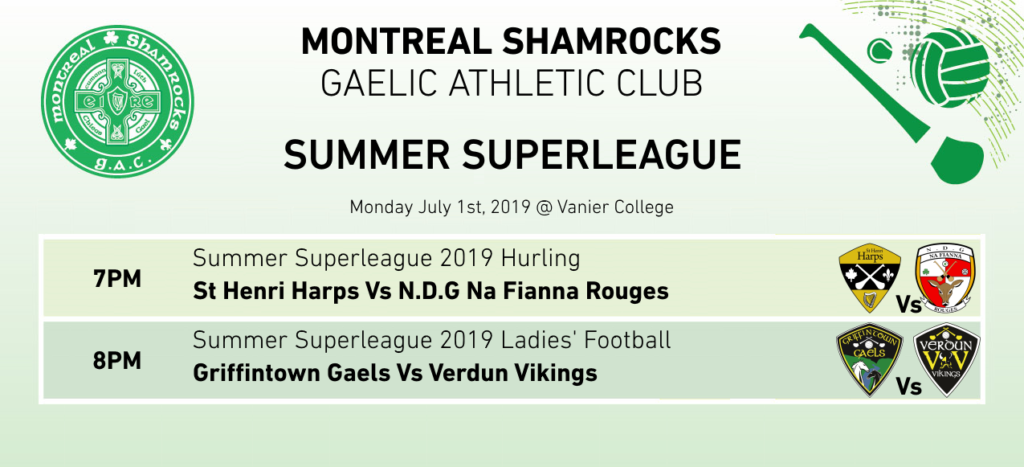 Coming up this Monday, the 1st of July at the Vanier College –
7pm – St Henri Harps vs N.D.G. Na Fianna Rouges
8pm – Verdun Vikings (Ladies) vs Griffintown Gaels (Ladies)
It's Canada day, so come join us for the most Canadian things we could think of – Hurling and Gaelic Football!
First up, we have small ball action with the St Henri Harps facing off against N.D.G. Na Fianna Rouges. The harps will be playing their second game in three days, and having seen off a challenge from PSC on Friday night with calm and composure they're hoping to extend their lead at the top of the table with another win here. The Rouges are in desperate need of a win here, having failed to put points on the board so far this season. That's not to say that it's already all over for the Rouges, but they will need to kick off a run of good form if they are to have any hope of reaching the finals. The last time these sides met it was a very close affair with the harps clinching victory by a single point, so both sides will be justified in feeling that they can take this one, and it will be a case of which side wants it more. Will it be the high flying Harps, or will the Rouges comeback start here? Join us at Vanier to find out in what should be a fantastic game.
And to round out the evening, we have a top of the table clash between the Verdun Vikings and the Griffintown Gaels in Ladies' football. These side have been in fine form this season, and though it's early days yet, neither side shows any intention of slowing their pace. The Vikings are so far undefeated, and would very much like things to stay that way. A win would move them four points clear of the Gaels with a game in hand, which would be a comfortable buffer for them to maintain and build upon for the rest of the season, and with their form so far the Vikings must surely be feeling confident of that. The Gaels are only two points behind the Vikings so a win here would bring them to level pegging, but still leave the Vikings with that important game in hand. The last time these two teams met was on the opening day of the season, and the Vikings won by a seven point margin but it has been said that the scoreline wasn't a fair reflection of that game. Now with the benefit of a few more games the Gaels will surely fancy their chances to take two points off the team to beat in the ladies Superleague. Will the runaway Vikings trail roll on, or will the Gaels derail them with a powerful performance? Come down to Vanier and join us as we find out in what is sure to be a riveting game of football.