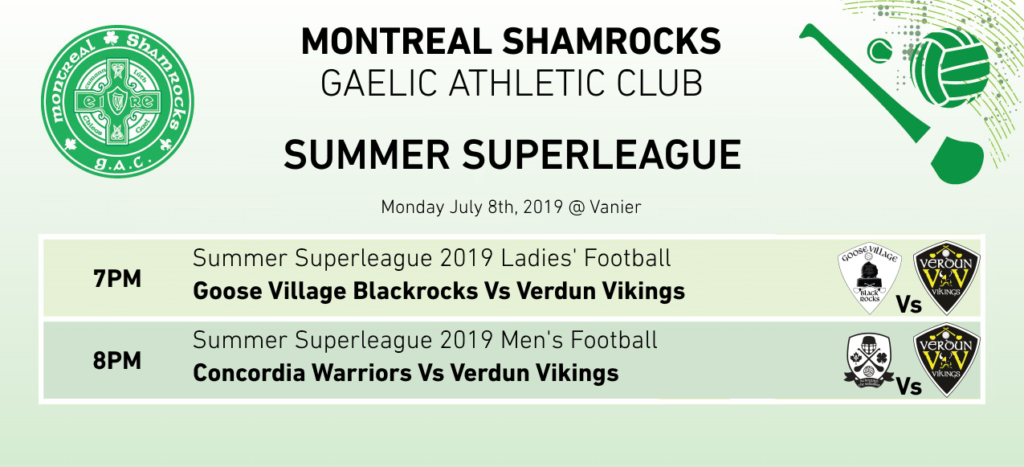 Coming up this Monday, the 8th of July at the Vanier College –
7pm – Goose Village Blackrocks (Ladies) vs Verdun Vikings (Ladies)
8pm – Concordia Warriors (Men's) vs Verdun Vikings (Men's)
We're back again at Vanier for a football double header, where the Men's and Ladies' Vikings are in action and both sides with very different stories to tell.
To begin, we have ladies' football, with the Goose Village Blackrocks taking on the Verdun Vikings. The Blackrocks took their first win of the season two weeks ago, with a three point victory over a tenacious Griffintown gaels side, and now they'll be looking to put some manners on the a Vikings side that has yet to taste defeat in this summer superleague. If they can maintain the discipline and drive that saw them overcome the Gaels then they'll stand a very good chance of doing just that. Meanwhile, the Vikings have just come off another strong victory, and will now be looking to get to the half way point in their season with an unbeaten record, knowing that just one more win after that would put them in the final no matter what happens. Teams have been asking questions of the Vikings all season, but they always seem to have an answer to hand. Will this time be any different? Knowing that a place in the final is so close might give them the drive needed to brush the Blackrocks aside, but it might also instil overconfidence.
How will this fixture play out, will the Blackrocks draw a line in the sand that the Vikings cannot cross, or will the Vikings just continue on their way in spite of their oppositions best efforts, by as they have done so often this season? Join us and find out!
Wrapping things up the men take to the field, with the Concordia Warriors squaring off against the Verdun Vikings. This bottom of the table clash is the last chance these sides have to launch a resurgence before the season hits the halfway mark. The Vikings just put their first point on the board with a hard fought draw against the Goose Village Blackrocks ten days ago, while the Warriors only win this season came when these sides first met back at the start of June. Both teams will be going into this knowing that they need a win to stand any chance of catching up with the top two teams. The Warriors have been impressive and hard working all season, but lacking that clinical finishing in the forward line, whereas the Vikings have been struggling with low numbers, but never letting the heads drop while also suffering their own goal scoring woes. With both sides having such similar stories, and both knowing that failure is not an option if they are to entertain any hope at all of making the summer superleague finals, we expect this to be a very intense affair, with neither side willing to let up from the throw in to the last play. It should make for an electrifying game to end the day.