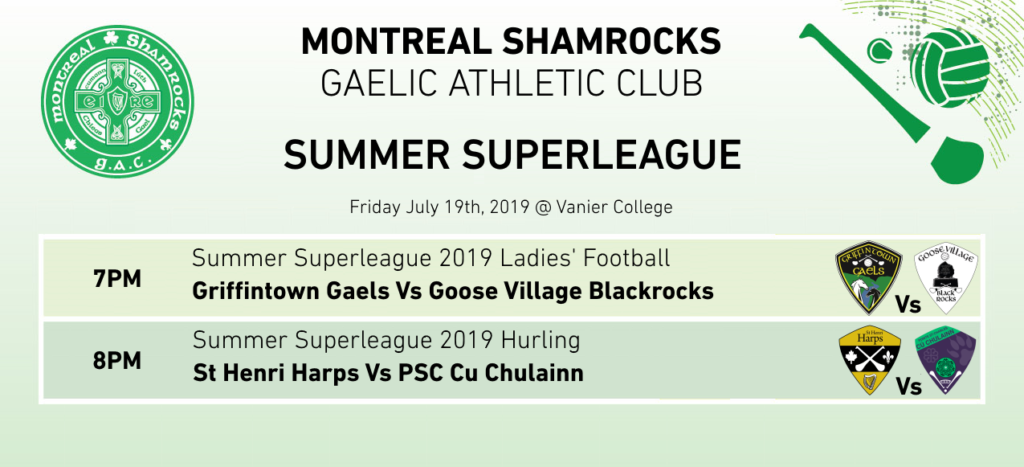 Coming up this Friday, the 19th of July at the Vanier College –
7pm – Griffintown Gaels (Ladies) vs Goose Village Blackrocks (Ladies)
8pm – St Henri Harps vs PSC Cu Chulainn
For the second time in five days we're back to Vanier as the chase for a place finals continues in the ladies' football with the Gaels and the Blackrocks both looking to put one over the other, and in hurling PSC look to take an unlikely scalp as they face off against on the high flying Harps.
Starting things off, we have the Griffintown Gaels lining out against the Goose Village Blackrocks in the ladies' football. The way this ladies' season is shaping up, the question of who joins the Verdun Vikings in the final looks like it'll come down to who comes out ahead across all the Rocks V Gaels matches. As it stands, it's one game apiece – so both sides will know that the team that can take the two points here will put themselves in a strong position to claim that second final spot. Previous fixtures between these two sides have been very closely fought affairs, with both teams giving as good as they get, so it's very likely that this game will turn on the smallest of things: a misplaced pass, a player bursting through and not being picked up, any one of them could mean the difference between victory and defeat. So join us in Vanier where we will see which of these two teams can take the pressure, and who will buckle. It should be a fantastic game and another exciting chapter in the summer superleague
Taking us into the weekend, we have small ball action as current table toppers, the St Henri Harps take on PSC Cu Chulainn who are playing their second game this week. On Monday PSC were taken by surprise as they failed to contain a resurgent N.D.G. Na Fianna Rouges, who also manged to depose them from the number two spot. With only a few days to regroup and a much tougher task ahead of them this time, this game will be a true test of the character of PSC as they'll need to dig deep and find something special if they're to take two points and return to the second place spot. The Harps have been asking questions that the rest of the league have been unable to answer since the start of the summer, and they show no signs of stopping now. A win here puts them into the final no matter what happens, and they'll surely know that coming into this, and we can expect them to be as ruthless and driven as we've ever seen them. Will the Harps finish booking their place to the final or with PSC finally find a response and take two much deserved points from a team that's given up nothing so far? Join us for what will undoubtedly be a blistering game of hurling, and a fine end to the week.