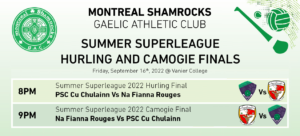 The final set of finals for the summer superleague of 2022 are here!
It's a hurling/camogie final double header, with the hurling final opening proceedings, followed by the camogie final. This will be kicking off on Friday the 16th of September, starting at the later time of 8:00pm at Vanier.
In hurling PSC Cu Chulainn have had things nearly all their own way this summer, with three wins from four. But that blemish on their record will give hope to N.D.G. Na Fianna Rouges as they look to repeat some of their best form and pip PSC to the post in what should be a hotly contested final.
Following that display will be our camogie final – in a mirror image of the hurling, it's N.D.G. Na Fianna Rouges who are enjoying their time in the sun, having gone all season without tasting defeat. PSC Cu Chulainn must surely be itching to rain on that particular parade and have come within touching distance more than once this summer, so this could finally be the day that they break the hoodoo and take their first camogie trophy to boot!