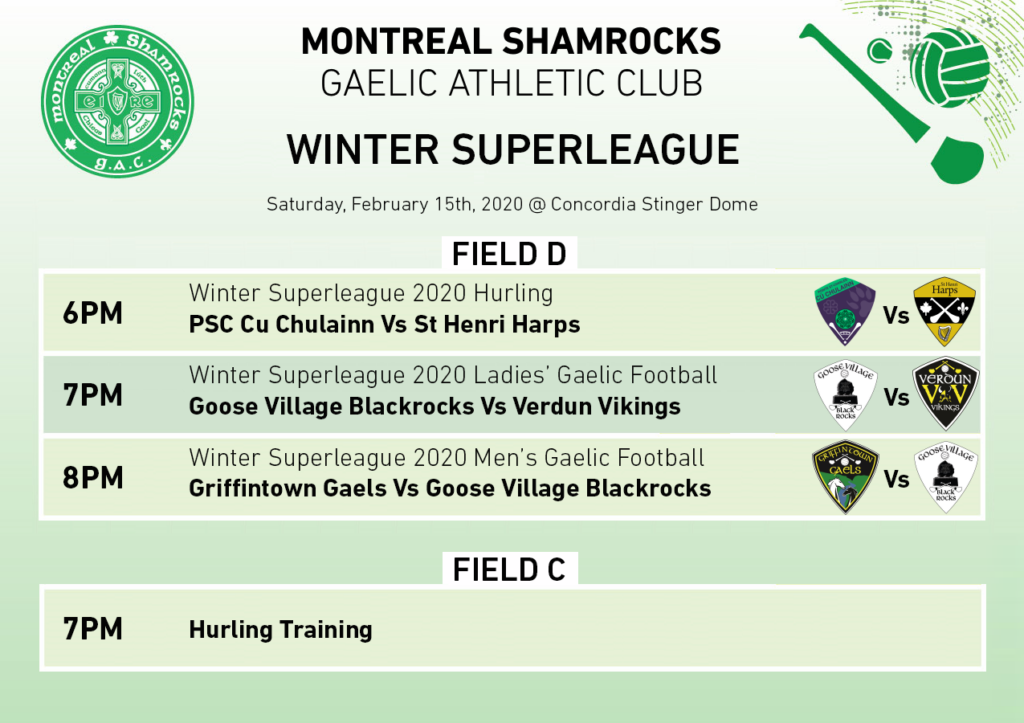 Coming up this Saturday, the 15th of Feburary at the Stinger Dome –
6pm – PSC Cu Chulainn vs St Henri Harps
7pm – Goose Village Blackrocks (Ladies) vs Verdun Vikings (Ladies)
8pm – Griffintown Gaels (Men's) vs Goose Village Blackrocks (Men's)
Week Six of the Winter Superleague sees top of the table clashes in the Men's football, a place at the top of the table up for the Vikings in the Women's football, and in Hurling PSC will look to turn their season around as they face the St Henri Harps.
PSC are without a win so far this year, but will fancy their chances in landing the second punch on a Harps side that are still reeling from their first loss of the season.
Next up we have a second place Vikings taking on third place Blackrocks, both could jump into first depending on the score difference that the end of this match, so expect no quarter to be asked or given as both sides chase the number one spot.
And to close out the night we have a top of the table clash, where the Griffintown Gaels meet the Goose Village Blackrocks for the second, and possibly last, time this season. The game went the Gaels way last time, and set them up for an impressive season so far, but the Blackrocks will be itching to right that perceived wrong and will look to push the Gaels to their limit. Will the Gaels go two for two and set themselves up for a place in the final, or will the Blackrocks claim victory and throw the field wide open?