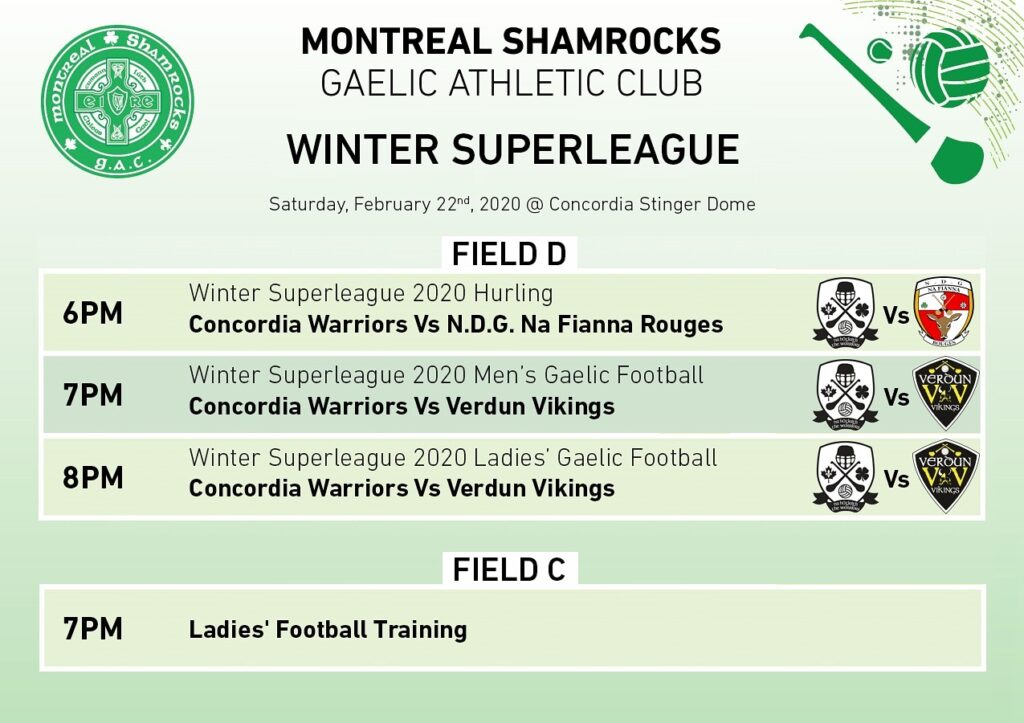 Coming up this Saturday, the 22nd of Feburary at the Stinger Dome –
6pm – Concordia Warriors vs N.D.G. Na Fianna Rouges
7pm – Concordia Warriors (Men's) vs Verdun Vikings (Men's)
8pm – Concordia Warriors (Ladies) vs Verdun Vikings (Ladies)
Week seven of the 2020 Winter Superleague starts at 6pm this Saturday, the 22nd of February, in the Concordia Stinger Dome, and will see the Concordia Warriors take to the field in all three fixtures.
First we have small ball action as the Concordia Warriors take on N.D.G Na Fianna Rouges. Both the Warriors and the Rouge as a point off the top of the table, so both sides will go at it hard knowing they can go top of the table with a win here.
Next we have the Warriors going against the Verdun Vikings in the men's football. These sides are tied on a win each but with the table as tight as it is, either side could jump into second place with a win here and position themselves nicely for the run in to the end of the season. High drama and fantastic football surely awaits in this fixture.
Finally, its the Warriors and the Vikings again, but this time in the Ladies' Football. The Vikings need a win here to keep themselves in the race, while the Warriors have been in fine fettle and will be looking for a win here to put them top of the table, which should make for a cracking game.
And while the men's football is on, there is a Ladies' Football training session from 7pm to 8pm on Field C.