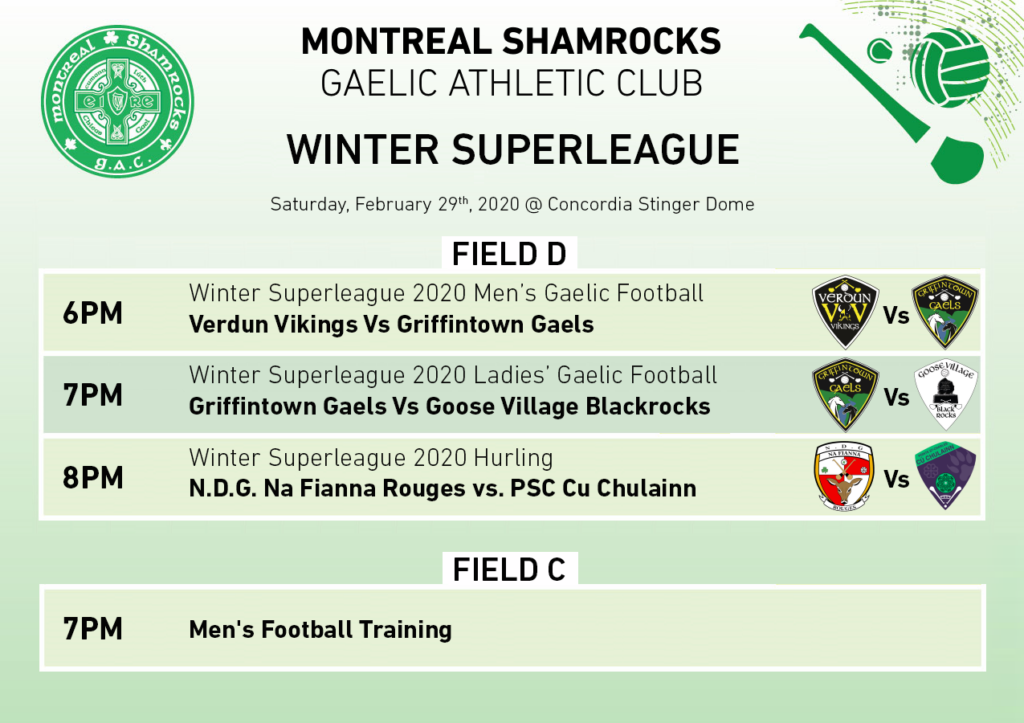 Coming up this Saturday, the 29th of Feburary at the Stinger Dome –
6pm – Verdun Vikings (Men's) vs Griffintown Gaels (Men's)
7pm – Griffintown Gaels (Ladies) vs Goose Village Blackrocks (Ladies)
8pm – N.D.G. Na Fianna Rouges vs. PSC Cu Chulainn
Week eight of the 2020 Winter Superleague starts at 6pm this Saturday, the 29th of February, in the Concordia Stinger Dome, and it's do or die time for a number of our teams, at the league enters its final stages.
First we have the Verdun Vikings lining up against the Griffintown Gaels in the men's football. A win for the Gaels here will stamp their ticket for the final, leaving the rest of the table to fight for the remaining place. Meanwhile, the Vikings are at their last chance saloon, they need to win both their remaining games and hope that all the other results land just right to stand a chance of making the final. It's a long road, but they'll need to take their first step here.
Next we have the Griffintown Gaels going against the Goose Village Blackrocks in the ladies' football. No team has pulled far enough ahead of the pack to be thinking about the finals just yet, but a win here would strengthen the Blackrocks case as they would go top of the table. A win for the Gael would truly set the cat amongst the pigeons, as all four teams would be tied on four points each, and all teams would have two games left to play. All still left to play for, no matter what happens.
Finally, it's N.D.G. Na Fianna Rouges taking on PSC Cu Chulainn in the hurling. PSC can no longer make the finals, but that doesn't mean they can't have a say in who does. A win here for Na Fianna would put them into the final, no matter what happens. But a PSC win makes it a three horse race, with the Harps, the Warriors, and Na Fianna all capable of making the finals. Riveting stuff, either which way!
And while the ladies' football is on, there is a men's' Football training session from 7pm to 8pm on Field C.