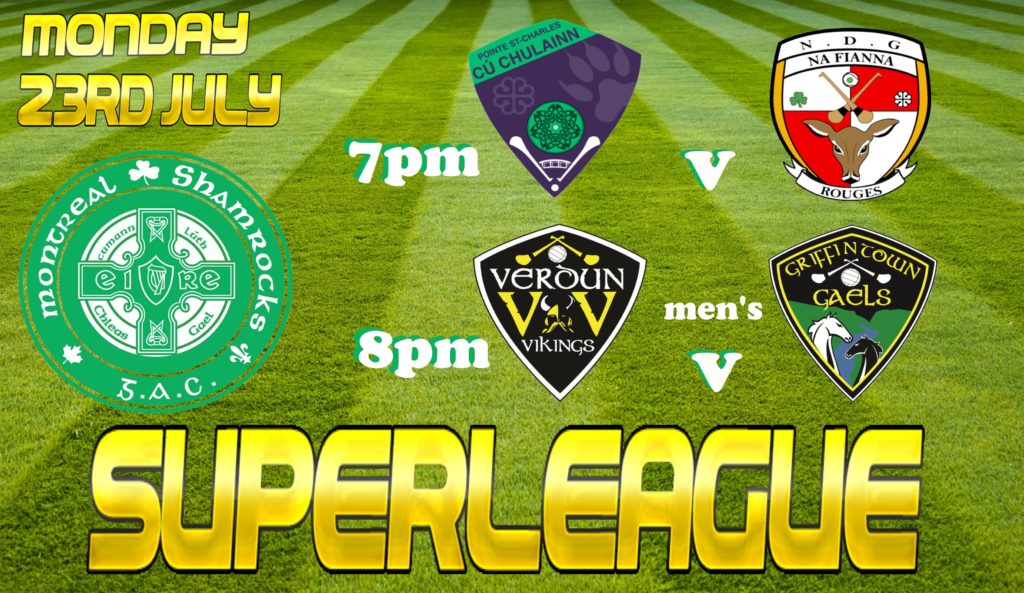 This week we have Men's Football and Hurling action, and both fixtures should be fierce clashes, with plenty at stake.
First up, the Verdun Vikings will take on the Griffintown Gaels in the midpoint fixture of this season. With four more games to play and a potential eight points up for grabs for all teams, it's not time to write anyone off just yet, but only the most ardent Gaels supporter would deny they've a mountain to climb. Currently bottom of the table, by virtue of score difference, it's not been the Gaels' summer so far and facing a currently undefeated Vikings side certainly won't be the fixture that they'd be hoping for right now. But needs must and the Gaels must be ready to dig deep and claim some points here. They've had some close games already this season, so the Gaels must be feeling that their time is due.
The Vikings will be looking to extend their lead at the top, as every game seems to take them one step closer to the point where their place in the final is uncontestable.
But complacency can be as deadly a foe as any, so it'll be on captain Ronan Corbett to keep everyone focused on the task at hand. Current form suggests that this will be a formality for the Vikings, but if ever there was to be a game on which the season could turn it'll be this one.
A loss here will see the Gaels star rise, but also open the top slot to other challengers, so expect the vikings to give it their all, and for the Gaels to give a loud reply.
Next up, we have the game that will define the rest of the Hurling season, one way or another.
PSC Cu Chulainn have had an incredible season, winning all three of their games so far and still top of the table despite playing less games than their opponents tonight Na Fianna Rouges (who have played five) or third place St Henri Harps (who have played four). So if Na Fianna have any hope at all of unseating PSC victory is a must tonight. Na Fianna will be buoyed by their victory over St Henri in last weeks fixture, and hoping that this is exactly what they need to mount a challenge, but they'll also be keenly aware that they'll only have two games left to play after this, so no matter their performance, things are mostly out of their hands.
PSC have had a few weeks of a break, and will undoubtedly have enjoyed watching their rivals bloody each others noses and fail to make any real ground while they rested. But without game time in so long, there's the spectre of rustiness that PSC will be hoping to exorcise, and another win would be exactly the way to do it. They have the most room for error out of all the teams, but that's the sort of thinking that allows teams to snatch defeat from the jaws of victory, so it'll be time to put the heads down and get to work for PSC.
This promises to be a ferocious clash, with neither side willing to settle for anything less than a win, should be fantastic stuff.