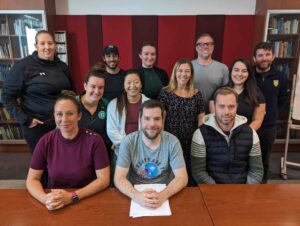 Yesterday members of the shamrocks gathered for the 2023 AGM to review the past year and elect a new executive committee.
Thank you to the 2023 committee for their hard work and time.
Here is your Montreal Shamrocks 2024 Executive Committee:
—
Hier, les membres des Shamrocks se sont rassemblés pour l'assemblée générale annuelle de 2023 afin de passer en revue la dernière année et élire un nouveau comité exécutif.
Merci à tous les membres du comité de 2023 pour leur temps et tout le travail qu'ils ont accompli.
Voici votre comité exécutif des Shamrocks de Montréal pour l'année 2024:
—
Chair/Président- Jake O.
Vice-Chair/Vice-Président – Larissa A.
Secretary/Secrétaire – James M.
Treasurer/Trésorier – Corey C.
Registrar – Orla M.
PRO – Jillian S.
Social Officer – Marie-Eve J.
Hurling Reps – Jeremy D. & Mike S.
Mens Football Rep – Patrick B.
Camogie Rep – Eloise R.
LGFA Rep – Jasmine A.
Rounders Officer – Aidan G.
Fundraising Officer – Julie R. & Eliza L.
French Language Officers – Alicia C.
Equipment Manager – Audrey M.
LGBTQ+ Officer – Carben H & Julie M.