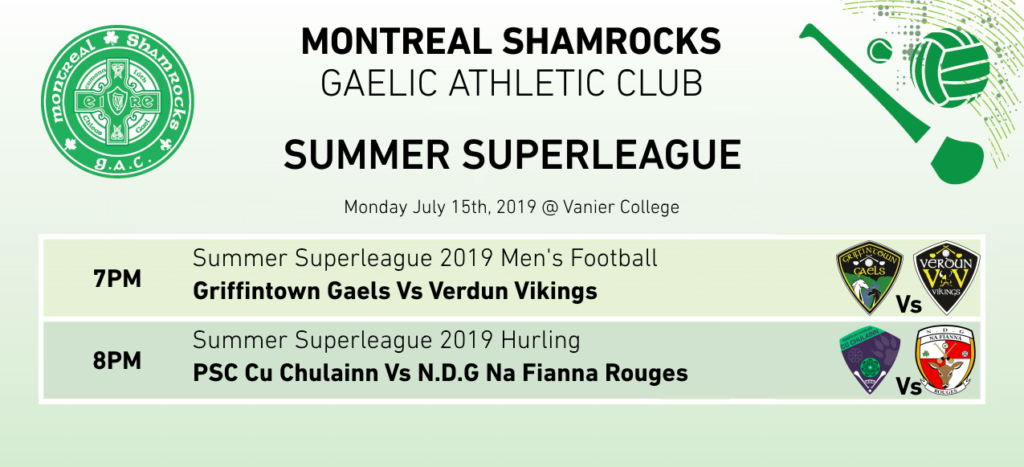 Coming up this Monday, the 15th of July at the Vanier College –
7pm – Verdun Vikings (Men's) vs Griffintown Gaels (Men's)
8pm – PSC Cu Chulainn vs N.D.G. Na Fianna Rouges
This Monday at Vanier we have Men's football and Hurling, as the Verdun Vikings look to build on last weeks success by taking two points from the Griffintown Gaels and N.D.G. Na Fianna Rouges are still in search of their first win of the season as they go up against PSC Cu Chulainn.
First up, the Verdun Vikings line out against the Griffintown Gaels as the men's football season moves into its second half. A win here with a score difference of greater than two points would move the Vikings into second place, a far cry from where they were before last week's game. After so many false starts and near misses, the Vikings will surely feel that their season is about to come good, and a strong performance here would be the perfect way for them to reassert themselves as potential finalists. The Gaels have been enjoying a prolonged spell of good form since their one point loss in their opening game, and have been taking teams apart with ease. Indeed the last time these two sides met the Gaels ran out comfortable winners with a seventeen point margin, and they will be hoping to stop any Vikings resurgence in its tracks with a similar performance. Both sides have a great opportunity here, the Vikings' season may very well rest on the result of this game, whereas the Gaels will look to reduce their potential pool of challengers by one and move a step closer to the finals at the same time. All of which should make for a fantastic game from start to finish.
And seeing things out for the evening will be PSC Cu Chulainn battling against N.D.G. Na Fianna Rouges in the hurling. With the St Henri Harps being the team to beat this summer, PSC will need to take two points here if they're to keep pace with the current leaders, and they'll be looking back to the last meeting between these two sides for inspiration, where a fine display from PSC saw them win with an eight point margin. And as bad as PSC need a win to keep up at the top, Na Fianna are in a much more dire need of a win here before their season is beyond salvaging. Currently at zero wins in three games in spite of spirited performances, the rouges will need to really dig deep and pull out something special here, or they'll be looking at a very steep mountain to climb. Will the Rouges pull out a much needed win, or are PSC going to brush them aside and keep pressure on the Harps? Join us down in Vanier for what ought to be an intense game of Hurling.