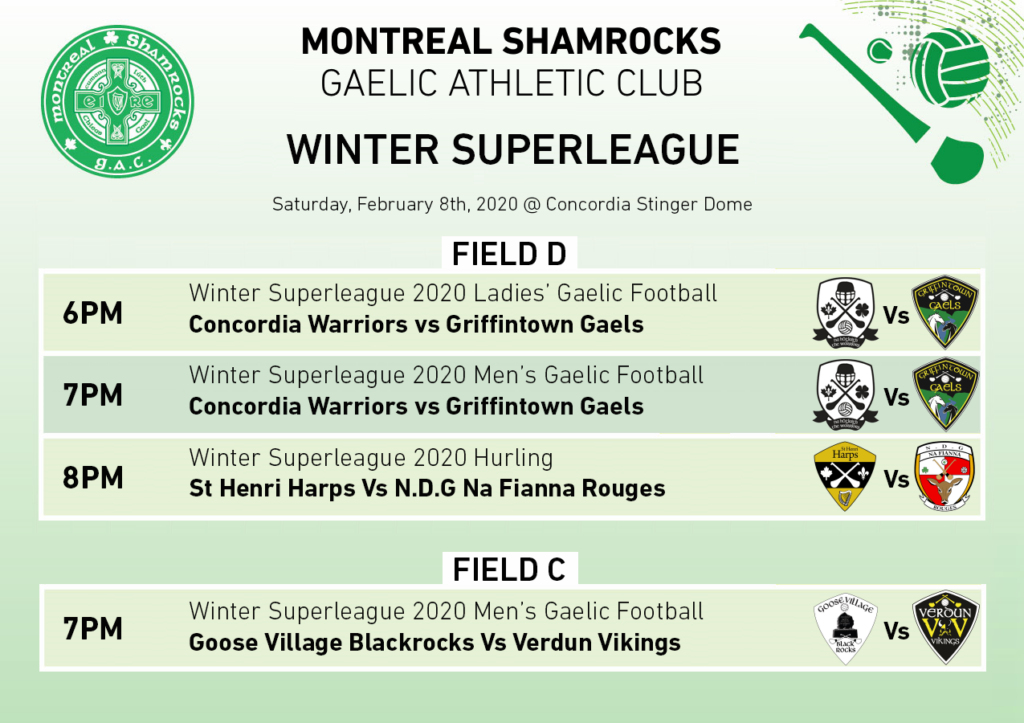 Coming up this Saturday, the 8th of Feburary at the Stinger Dome –
6pm – Concordia Warriors (Ladies) vs Griffintown Gaels (Ladies)
7pm – Field D – Concordia Warriors (Men's) vs Griffintown Gaels (Men's)
7pm – Field C – Goose Village Blackrocks (Men's) Vs Verdun Vikings (Men's)
8pm – St Henri Harps vs N.D.G. Na Fianna Rouges
Week Five of the 2020 Winter Superleague starts at 6pm this Saturday, the 8th of February, in the Concordia Stinger Dome, and will see all the men's teams in action as we have another double header weekend!
All the teams in the Ladies' football league are tied on one win apiece, so it's a spot at the top of the table for whoever comes out ahead in our opening fixture as the Concordia Warriors take on the Griffintown Gaels.
Following from that both fields will be in use as the Gaels and Warriors face off on Field D and the Blackrocks and Vikings go head to head on Field C. There's only two points keeping the Gaels at the top of the table, so either the Rocks and the Vikings will be snapping at their heels, provided the Gaels can do the business against the Warriors.
And to close out the night we have Hurling, where the St Henri Harps take on current champions, N.D.G Na Fianna Rouges. Every other team has tried and failed to put the Harps in their place, and now it's the Rouges' turn. Will the be successful, or with the Harps hype train roll on?